0.0 English
Do what you want in your life with English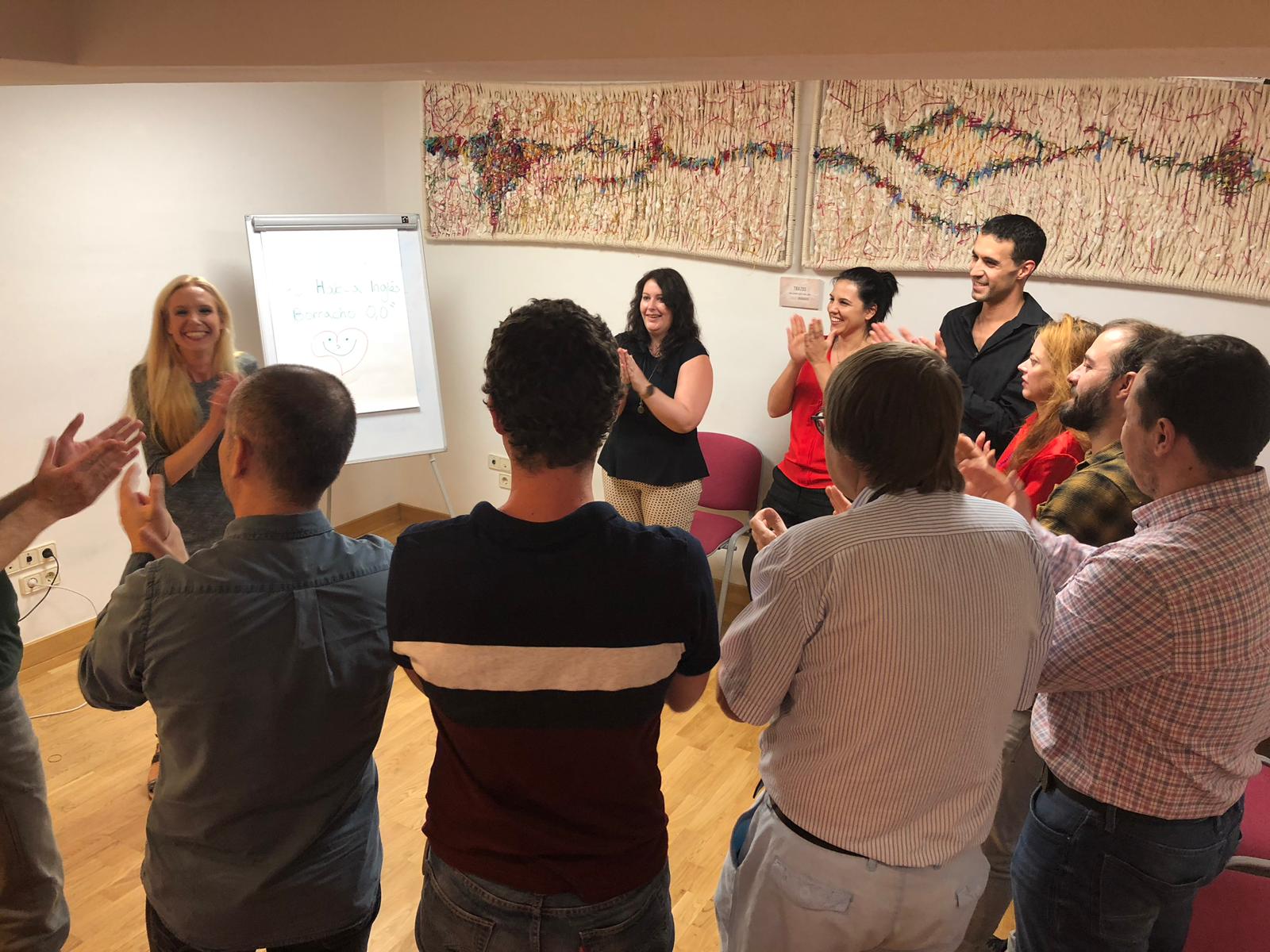 The 0.0 Method enables you to PARTICIPATE in work meetings + to do interviews, presentations & networking in English. 
This is NOT an academy nor a complicated online method. You WON'T have to study. It is for ambitious professionals who want to do their job in English as well as they do it in their first language, and say «yes» to new professional opportunities. 
The 0.0 Method in various flavours:
The Online English Practice Network
An online group of international professionals (like in real global business meetings) that meet weekly and learn how to speak fluently, learn quickly and enjoy speaking English in real situations.
Online 1:1 Coaching FOR Fluent English
To unblock you so that you can speak fluently, learn quickly and enjoy speaking English in real situations. That way you will be able to say «yes» to professional opportunities in English that come your way.
Online 1:1 LIFE Coaching IN English
Through my online transformative 0.0 coaching, you will eliminate stress, regain your passion for life, and create whatever you want to create in your life (in your public speaking, relationships, career, projects…). And practice your English at the same time!
Retreats in English
Reconnect to a clear, creative and communicative mind on these «Reconnect Weekends», where you will be entirely immersed in English. You will unblock your mind, speak English fluently and go back to your work and life relaxed, reconnected to your wellbeing, with new ideas, communication abilities, and fresh energy. 
The 0.0 Method
0.0 originally came from "Cerveza 0.0" in Spanish – alcohol-free beer. Helping people to communicate as confidently and fluently as when they have had a beer or two, without drinking anything at all.
This then naturally evolved to "0 Excuses, 0 Stress" and then to «0.0 Excuses + Flow». 
The method is designed to get you out of your self-judgement + pressure, and into fluent communication + fast and natural learning. It does this in 2 main ways: 
1. Giving you the understanding and tools to be in your optimal mental state in your conversations.
2. Setting you challenges related to using English in real situations.  
Examples of Success Stories
I could never have imagined that I could get English-speaking people as I clients. It's a great change for me!
I'm not just speaking English fluently without thinking, without looking for the words – fluently, but I also recognise and accept my thoughts and feelings. I see that the most important thing isn't my past and future experiences but the present. Realising that while I speak English fluently is incredible.
I've learnt to relax at work meetings, I say what I want to say and I really listen.  I speak fluently, I understand much more and I'm expressing myself better. The important thing is that my message is conveyed, and I understand the people I speak with, so that I can do my job properly.
I feel more relaxed in the German conferences in my company, and I can focus on the participants' opinions. I am also more in touch with English now – with many opportunities to speak, listen and read.
I work as a software developer and I have to speak with people from other countries. With Emma I realised that I spent more time thinking that I wasn't speaking very well or my accent was horrible than focusing on the conversation. I want to have conversations where I can participate fully, not conversations with my mind. After just one week, I experienced a shift. I started to speak more slowly but I was actually enjoying the conversation with my colleagues. I was actually listening to them and not being afraid of asking them to repeat things. This is something anyone can do. You can have a mind shift and start doing what you want – and having fun with it.